Choose your language:
As we get closer and closer to one of the biggest events in the brief history of cryptocurrency – the Ethereum Merge – there are a number of metrics which are suggesting activity is picking up across the space.
The first is the Ethereum Name Service (ENS), which saw its third highest month of revenue in August. Generating $4.3 million in revenue, the service saw 34,000 accounts register names for the first time.
August 2022 stats for ENS
– 301K new .eth registrations (total 2.17m names)
– $4.7m in protocol revenue (all goes to the @ENS_DAO)
– 2,744 ETH in revenue (3rd highest month)
– 34K new eth accounts w/ at least 1 ENS name (total 540k)
– >99% of OpenSea domain vol pic.twitter.com/utU8i4cBMT
— ens.eth (@ensdomains) September 1, 2022

These names are a neat feature of Ethereum. Instead of providing somebody a long Ethereum address, instead a simple name ending in .eth can be provided, such as harrypotter.eth, for example. This name can be linked to one's wallet, meaning it's all that needs to be given when asking for a payment. Simple and intuitive.
The boost in these names being registered shows that people are positioning themselves for the Merge, slated to go live on September 15th.
The amount of ETH locked up in the staking contract is now up to 13 million ETH, which is about 11% of the total supply. At the current market price of $1,635, that translates to over $21 billion of Ethereum locked up in the staking contract.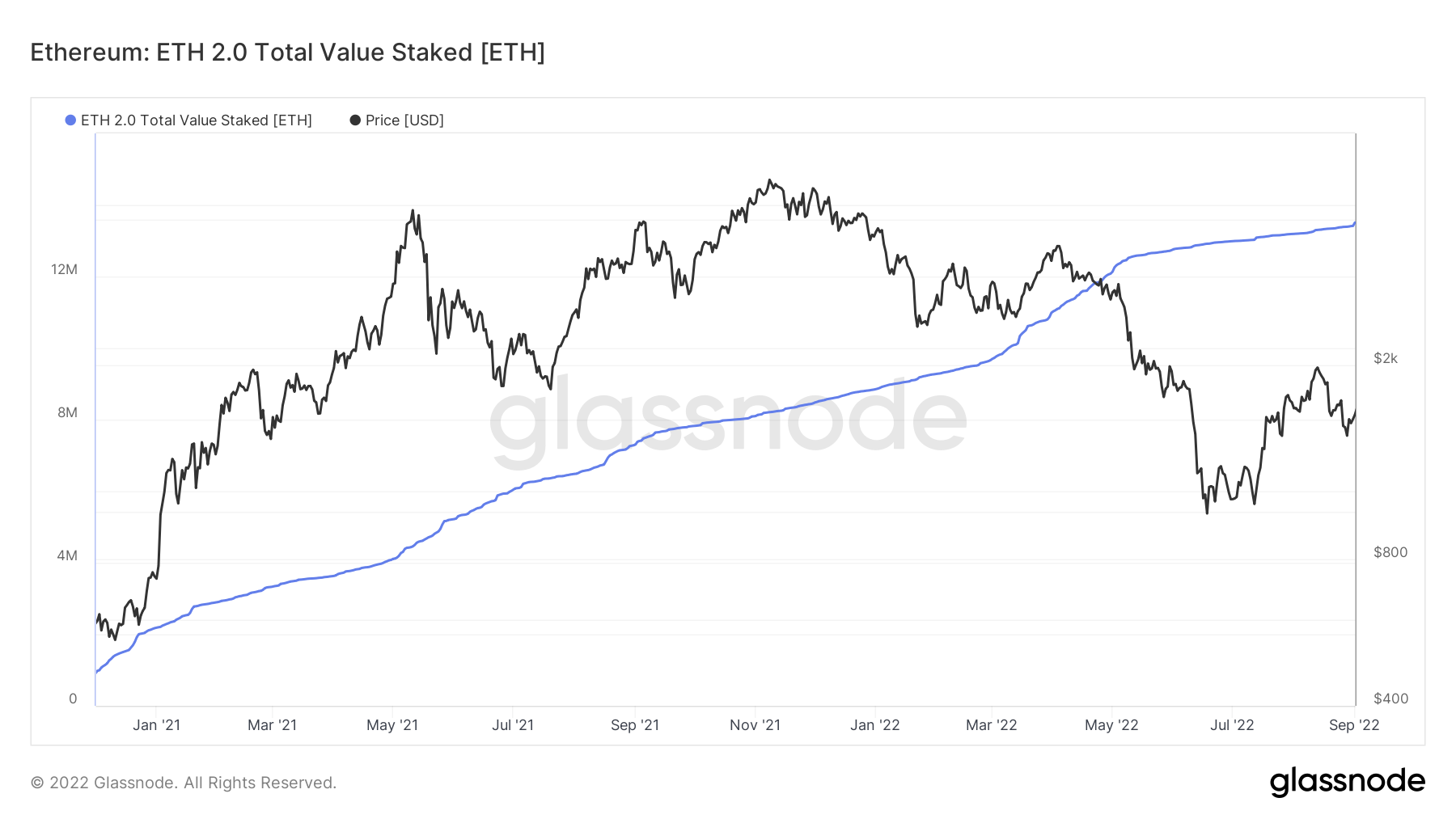 What is important to note here is that the Merge will not enable withdrawals of this ETH. I had previously speculated about whether a flooding of ETH into the market post-Merge could place downward pressure on the price – after all, much of the Ethereum has been locked up for quite a while, as the above graph shows.
However, investors will not be able to withdraw their ETH until another upgrade is implemented, which is not planned for 6 months to a year down the line. This should dull the concern around the supply/demand level as the Merge goes live. There are also liquid staking alternatives which mean the liquidity has not been totally inexistent to date.
And so we close in on the watershed moment, only two weeks away as I write this. The big question remains, will this be a "buy the rumour, sell the news" type event, or will Ethereum pump off the back of it.
My thoughts for the moment are simple – I think for the short-term price action, the macro climate is currently far more important, with spiralling inflation. A hawkish Fed and tense geopolitical climate still driving markets across the board.
Keep updated with our round the clock and in-depth cryptocurrency news.
Unsub anytime
No SPAM ever!
After signing up, you may also receive occasional special offers from us via email. We will never sell or distribute your data to any third parties. View our privacy policy here.
Please be aware that some of the links on this site will direct you to the websites of third parties, some of whom are marketing affiliates and/or business partners of this site and/or its owners, operators and affiliates. We may receive financial compensation from these third parties. Notwithstanding any such relationship, no responsibility is accepted for the conduct of any third party nor the content or functionality of their websites or applications. A hyperlink to or positive reference to or review of a broker or exchange should not be understood to be an endorsement of that broker or exchange's products or services.
Risk Warning: Investing in digital currencies, stocks, shares and other securities, commodities, currencies and other derivative investment products (e.g. contracts for difference ("CFDs") is speculative and carries a high level of risk. Each investment is unique and involves unique risks.
CFDs and other derivatives are complex instruments and come with a high risk of losing money rapidly due to leverage. You should consider whether you understand how an investment works and whether you can afford to take the high risk of losing your money.
Cryptocurrencies can fluctuate widely in prices and are, therefore, not appropriate for all investors. Trading cryptocurrencies is not supervised by any EU regulatory framework. Past performance does not guarantee future results. Any trading history presented is less than 5 years old unless otherwise stated and may not suffice as a basis for investment decisions. Your capital is at risk.
When trading in stocks your capital is at risk.
Past performance is not an indication of future results. Trading history presented is less than 5 years old unless otherwise stated and may not suffice as a basis for investment decisions. Prices may go down as well as up, prices can fluctuate widely, you may be exposed to currency exchange rate fluctuations and you may lose all of or more than the amount you invest. Investing is not suitable for everyone; ensure that you have fully understood the risks and legalities involved. If you are unsure, seek independent financial, legal, tax and/or accounting advice. This website does not provide investment, financial, legal, tax or accounting advice. Some links are affiliate links. For more information please read our full risk warning and disclaimer.