The Federal Reserve's July FOMC meeting potentially tilted the market's focus from interest rate sensitivity to economic growth sensitivity. Therefore, the prospect of slower interest rate rises has significant implications for market positioning. We maintain our view that inflation protection should be balanced with quality and defensive equity positioning, although the balance between cyclical value exposures and growth areas is starting to shift. Defensive growth focused areas could hold up better as the market looks for companies and segments that can grow despite economic weakness.
Positioning Overview
While navigating these transitions, we believe it is helpful to understand the historic relationship between sectors and economic factors including yields, the dollar, and crude oil prices. The tables below provide a broad template of portfolio positioning for an environment with rising economic risks and falling interest rate risks.
The analysis we conducted can be separated into two key areas: growth sensitivity and defensive positioning. The next two sections will provide more detail into these key areas followed by a section that combines these two ideas.


Sector Economic Growth Sensitivity
Economic growth sensitivity is likely to become increasingly important as recession risks rise. For instance, U.S. GDP contracted for a second-straight quarter this year, which meets the unofficial definition of a recession.
In our analysis, we examined the correlation between excess returns across sectors relative to changes in the WTI crude oil price to determine how sectors respond to shifting economic growth expectations. Crude and other growth sensitive commodities are typically highly sensitive to economic growth expectations. Additionally, the shape of the yield curve also reflects economic growth expectations. The yield curve is currently inverted, with the 2-year Treasury yield more than 20 basis points (bps) above the 10-year Treasury yield.1
Financials, Materials, Industrials and Energy are the key cyclical value sectors that are positively correlated with crude prices and the 10-year Treasury yield. Here are some additional relationships to consider.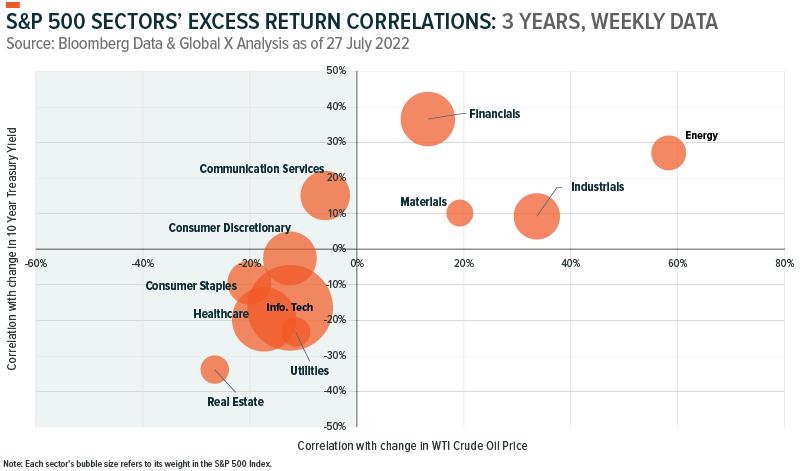 Defensive Positioning
Monetary policy divergence combined with economic growth concerns have strengthened the U.S. dollar relative to a basket of currencies. A flight to safety over the past few months favored defensive positioning.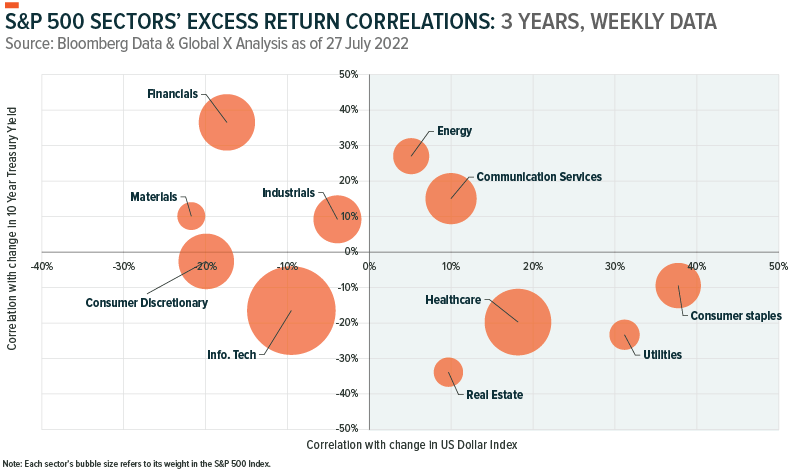 Combining Growth Sensitivity and Defensive Exposure
Removing the interest rate environment from consideration focuses attention on a single quadrant. While defensive sectors take the lead, growthier sections such as Communication Services and, to a lesser extent, Information Technology are just behind. Conversely, cyclical value sectors such as Financials and Materials stand out, challenged by a defensive environment with greater economic risks.
The Energy sector has been positively impacted by exogenous factors that remain in play. Typically, we would expect a negative relationship between Energy and the U.S. Dollar as a stronger dollar typically weighs on commodity pricing.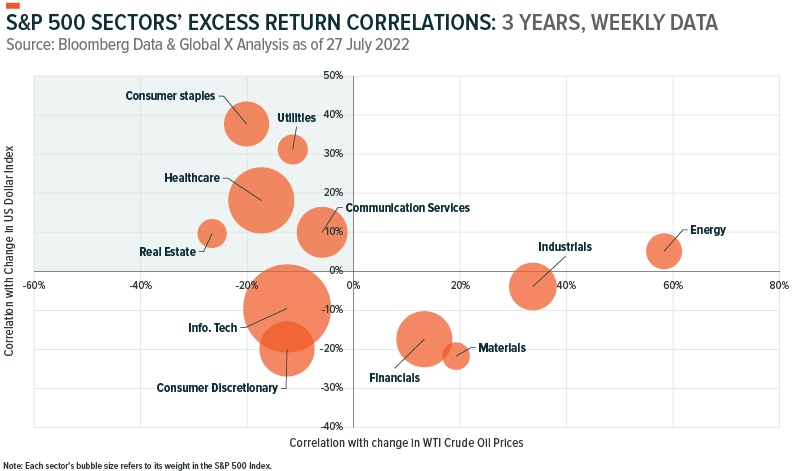 However, regime shifts from expansion to contraction can be volatile, which means deviating away from economically sensitive factors could help mitigate downside risk in equity portfolios. On the other hand, when the rise in yields and inflation slows, growth sectors such as Technology could be more receptive to a market rebound.
Our sector views table provides more detail on sector positioning and the current tailwinds and headwinds for each sector.


Authored by: Jon Maier; Michelle Cluver, CFA
Date:
Aug 5, 2022
Category:
Insights
Topics:
Macroeconomic, Sector Views
Download PDF
Share this:
Q3 Earnings Roundup & Sector Views
Inflection Points – November 2022
Global X: On the Markets
Inflection Points – October 2022
Back to All Entries
1. Bloomberg data as of 28 July 2022
2. S&P Global, The Impact of Rising Interest Rates on REITs, 1 April 2017
3. WSJ, Fed Worried About Inflation Risks As It Firmed Up Tapering Plan, 13 October 2021
4. FactSet, Earnings Insight, 22 October 2021
5. BofA, The RIC Report: Get Paid to Wait, 11 January 2022
6. Schwab, Sector Views: Financials, 25 January 2022
7. CDC, CDC Expands Covid-19 Booster Recommendations, 29 November 2021
8. CNBC, 'Once-in-a-generation' Prescription Drug Pricing Reform Could be Coming, 29 July 2022
9. BofA, The RIC Report: Get Paid to Wait, 11 January 2022
10. BofA, The RIC Report: America is Still Exceptional, 14 September 2021
Basis point (bps): A basis point is a hundredth of one percent. It is predominantly used to express differences in interest rates.
Capital Expenditures (Capex): Funds used by a company to acquire, update, and maintain physical assets such as buildings, technology, and equipment; often used to undertake new investments/projects.
FOMC: Federal Open Market Committee
Our ETFs
Insights
About
Contact
News
Privacy Policy
Subscribe to Updates
SEI Investments Distribution Co. (1 Freedom Valley Drive, Oaks, PA, 19456) is the distributor for the Global X Funds.
Check the background of SIDCO and Global X's Registered Representatives on FINRA's BrokerCheck
This material represents an assessment of the market environment at a specific point in time and is not intended to be a forecast of future events, or a guarantee of future results. This information is not intended to be individual or personalized investment or tax advice and should not be used for trading purposes. Please consult a financial advisor or tax professional for more information regarding your investment and/or tax situation.
Global X Management Company LLC serves as an advisor to the Global X Funds.
Subscribe
By subscribing to email updates you can expect thoroughly researched perspectives and market commentary on the trends shaping global markets. Topics may span disruptive tech, income strategies, and emerging economies.
We adhere to a strict Privacy Policy governing the handling of your information. And you can, of course, opt-out any time.
Contact Us
Explore research, content or product pages within our site
Look up individual securities found in Global X ETFs
Select Your Location
You Are Now Leaving the US Website of Global X ETFs
Clicking "Confirm" below will take you to a different website, intended for jurisdictions outside the US. Such links are provided as a convenience. Global X Management Company LLC disclaims responsibility for information, services or products found on the websites linked hereto.
The subsequent website(s) may be governed by different privacy policies, terms and conditions, or regulatory restrictions. Links to these websites are not intended for any person in any jurisdiction where – by reason of that person's nationality, residence or otherwise – the publication or availability of the website is prohibited. Persons in respect of whom such prohibitions apply should not access these websites.