Apple is famous for ignoring social media. Now, it's finally debuted its core brand on a social platform, and it's not Facebook or Twitter but Tumblr instead.
This past week, Apple launched isee5c.tumblr.com, a Tumblr devoted to its colorful, low-cost version of the iPhone, the iPhone 5c. The page features several short animated advertisements for each of the 5c's various colors, and hints that more animations will be unveiled in the near future.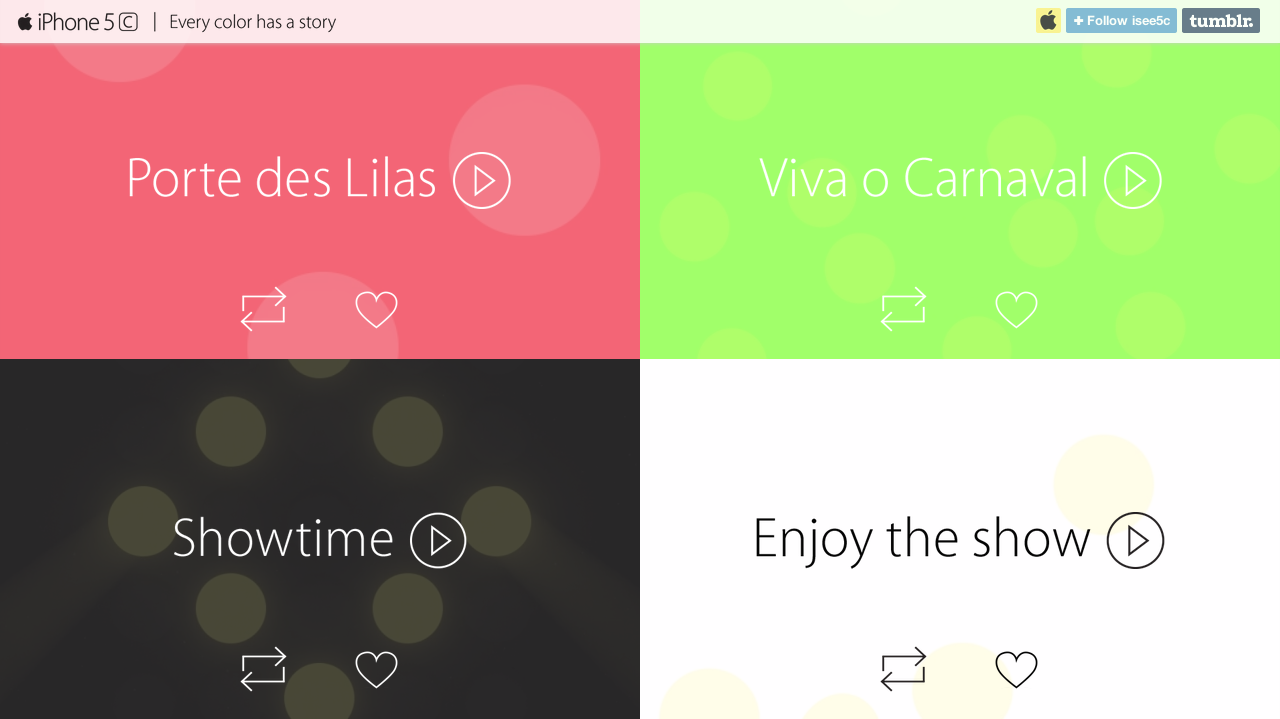 The website is a milestone for both Apple and Tumblr. For Apple, it, incredibly, marks its foray into social media. (Apple maintains Facebook and Twitter accounts for its iTunes music software, but has not used social media to market its hardware until now.) And for Tumblr, it vindicates CEO David Karp's vision of the platform as a home for high-quality brand creative. Karp famously criticized digital advertising platforms like Google for being in the business of "hyper-hyper targeting of little blue links," in an interview with Forbes last January.

"Tumblr separates itself from a creative standpoint," said comScore's vp of marketing and insights Andrew Lipsman. "And for Apple, a company that is known for good creative in advertising, it's a good fit in that regard."
Tumblr and TBWA/Media Arts Lab, Apple's agency of record that is maintaining the Tumblr, all declined to comment on why Apple chose Tumblr for its late-in-the-day social media debut. (Apple did not return a request for comment by time of press.) But a look at how Tumblr's user demographic coincides with the iPhone 5c's customer suggests it is a good match.
A majority (56.1 percent) of Tumblr's desktop audience in the U.S. in January 2014 were 34 years old or younger, according to comScore. That's nearly identical to the number of iPhone 5c users (56.6 percent) who are 34 years or younger, comScore research showed.
"It makes sense that Apple's first foray into marketing on Tumblr focuses on the 5c since the device currently appeals to a very similar audience as Tumblr's core audience of teens and millennials," Lipsman said.
The Tumblr launch is part of a larger campaign for the 5c, but there's no indication that that will include Apple creating a Facebook page or claiming its Twitter handle, @apple, which has more than 26,000 followers despite having never sent a tweet.
Image via Apple, Tumblr
Twitter – once a stable and trusty workhorse for social media strategists – now resembles the most wildly unpredictable social platform in the marketing arsenal.
Recruiters report that 'we've never seen a market quite like this' as tens of thousands of employees flood the market.
The recent explosion in content has created the need not only for more sophisticated tools to manage it, but better ways to attach data and analytics to the content in order to better optimize it at the right time for the right opportunity.
With the full deprecation of third-party cookies on the horizon, advertisers and publishers are navigating a challenging and quickly evolving landscape. The sunset of the third-party cookie continues as usage and lifetimes fall. Their deprecation is preventing brands from effectively measuring the effectiveness of media campaigns in real-time at highly granular levels. As the industry […]
Traditional media including broadcast and print are expected to be hit hard by revenue losses. What will save local from a deeper downward trend next year will be local ad spending on digital, digital out-of-home (OOH) media and connected TV.
Soccer media business Footballco has spent most of 2022 trying to make hay while the sun is shining. 
Get access to tools and analysis to stay ahead of the trends transforming media and marketing
Visit your account page to make changes and renew.
Get Digiday's top stories every morning in your email inbox.
Follow @Digiday for the latest news, insider access to events and more.